THE PURPOSE OF CREATION IS TO GIVE YOU THE INFORMATION, WHAT ACTION CAN BE TAKEN TO HOW BEST TO TALK WITH OFFICIALS AND INCREASE YOUR CHANCES OF BUILDING A SKATEPARK IN YOUR AREA
Community "skate"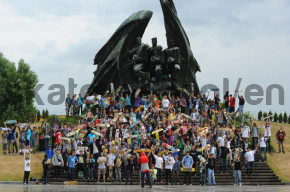 Any action must begin to organize a large group of people as possible ,that will benefit from the skatepark. The size of your group is important, so gather regardless of the divisions of skaters, skateboarders and BMX-men. Your strength lies in numbers. Create a group of people who are willing and able to spend time arranging skatepark, regular meetings of the organization and the organization / participation in campaigns for the skatepark. It will be good to choose one person, the most rozgarniętą, energetic and outspoken to have been the leader and several of the contributors advocates on your behalf.
Find a place to meet. This may be a school, a common housing estate, cultural, local skateshop, any place where you will be able to freely gather regularly. This should also be a place where officials and other guests will also feel good. Agree on time, every week or every two, when I will be able to meet there. The term should be such that it can come as much from you.


Look for adults who are willing to help you. Counts every adult, a parent, a friend, but it is useful to gain influential people who are known and respected in your area. This can be a doctor, teacher, police officer, even a priest, anyone who wants to help you.

Lay down your expectations for the skatepark. Think about where in your area is a place where would be the possibility of a skatepark. Porozumcie the company / companies involved in designing skateparks, the approximate cost of the construction of the skate park on the square you have available and how such obstacles, they would like to be there. Remember to take into account at the same expectations of all, and not only for example bladers.

Prepare an action plan or rozpiszcie the least outline when and what you will do.

Is also a good idea to establish for example an association, but it is more complicated.